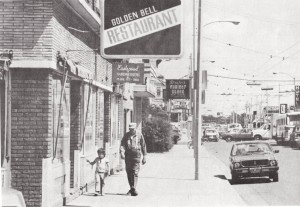 Alberta Avenue emerged in the early 1900s as a transportation link to the industrial area of North Edmonton Village. Meat packing plants and foundries employed new residents and a thriving business area grew to meet the needs of the new population.
The Avenue was alive with activity and excitement. From 1909 until dismantled in 1951, streetcars clambered up 97th and later 95th Street before turning east along 118th Avenue. The streetcars were a catalyst that allowed the diverse residents of Alberta Avenue to work throughout the city and remain connected to the downtown core.
The second half of the century saw many changes come to the area. Large-scale developments in the surrounding region and the re-routing of transportation along the Yellowhead corridor reduced traffic along 118th Avenue. Added to this were changing consumption patterns towards a car oriented department store model, which drew residents away from local businesses. The story of the Avenue Trading Post is demonstrative of these changes.