11725 93 St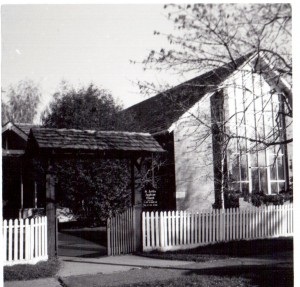 St. Faith's Anglican Church is one of the oldest serving churches in the area and actually predates the Diocese of Edmonton by three years. It began as a mission in 1910 when the Western Canada Fund was raised by the Archbishops of Canterbury and York to send a group of priests and laymen to Edmonton. This fund was raised in response to a request by the Archbishop of Rupert's Land who saw the rapid population growth in Western Canada as an opportunity "that stands literally by itself in the history of Christendom…to win a victory for Christ."
This area was chosen for a mission because it was still beyond the proper edicts of modern urban lifestyle. It was decided that a missionary presence would provide a morally uplifting element to the large and newly settled immigrant population. Using money from the Fund, a large piece of land was purchased south of 118th Avenue from 92nd to 93rd Streets. A mission house, with a chapel and school room attached, was built on the property in 1910.
In 1912, the chapel was raised up and moved 150 feet away to a prepared foundation by a crew of volunteer parishioners, an act which separated the Parish from the Mission and turned it into a independent and financially self-supporting church.
The growing population put pressure on the Parish to find more space and so in 1914 the church authorized the digging of a basement 62' x 104' just north of the Mission house. Since there were many men out of work in the parish there was a great deal of labour available for the task. However, funds ran out with the hard times of the First World War and the basement slowly filled in from neglect. Still desperate for more space, St. Faiths purchased a store on the corner of 93rd Street and 118th Avenue to be used as the parish hall. It served as such until 1948.
Despite its lack of money for a new building, the congregation of St. Faith's was incredibly active. Numerous clubs, organizations, classes and events kept the community busy.
In 1949, a new parish hall was built next to the church and a connecting hallway created to link the two. In 1951 following an ambitious fundraising campaign they were able to build a new church as well. These buildings served the church until the early 2000s when the old hall was demolished to make way for the new.