11217 – 97 St.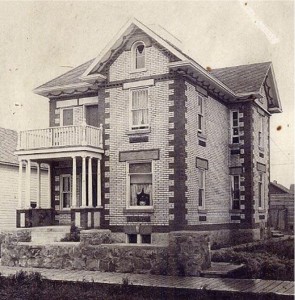 John McNeill, also known as Jock, was born in Scotland but moved to Edmonton in 1910. Shortly after arrival he bought Twin City Transfer – a modest moving company – and began operations.
Many newcomers were arriving in the booming city daily. Without a home to move to, they needed a place to store their possessions and later to move them to their new home.
With a handle on the market and an "ability, progressiveness and honesty with which he conducted transactions,"
McNeill soon saw his business flourish. He expanded rapidly and grew quite wealthy in the process. The house he lived in here in the Norwood neighbourhood demonstrated his prosperity. It was known in its early days as the fanciest house in the neighbourhood with its stone foundation, widows walk, two-toned brick and decorative wood carvings.
Even the War and following real estate bust that saw the demise of many fortunes in early Edmonton could not stop McNeill. After the War he continued to expand his business, opening the first bus service and taxi service in the city. The later Twin City Taxi, established in 1920, became the Yellow Cab franchise that still traverses the streets.
McNeill also became interested in aviation and as president of the Edmonton Aircraft Company built the first hangar at the municipal airport and owned one of the first airplanes in the city.