Nestled in downtown Toronto, the Maple Leaf Gardens remains as a monument to the past and to the sport that grew up inside it's walls. However when it began, before the years of excitement had been poured into building the mountains of memory that exist today, the Maple Leaf Gardens had a counterpart. Granted it was only in name, as Edmonton's Maple Leaf Garden's never came close to matching the grander of that cathedral in Toronto, but it was a starting point for many great things.
It was sometime early in the 1930s that the City of Edmonton decided to establish an outdoor rink on 118th Avenue between 96th and 97th Streets. Little remains as testament to this structure, like many rinks that were put up every year on empty lots in the neighbourhood this one faded away with the summer and has been lost to all but memory.
The simple facilities of the rink were all that anyone in Edmonton at the time could ask for; it was above all an opportunity to play. What marks this rink as significant though is that it became home to the Maple Leaf Athletic Club, from which it drew its name.
Henry White, a paymaster for the CNR who lived next to Parkdale school, established the Club in 1931. White was a prominent member of the community at the time who was known for his active role in the Boy Scout movement and in organizing youth athletics. He encouraged the development of the Maple Leaf Club as a source of potential enrichment for young men in Northeast Edmonton.
In 1948 they moved to a new building between 84th and 85th along 118th Avenue. The new building grew out of an old army hut that had been left unused following the war, but sported "fine hardwood floors and additional improvements" from their previous shelter. As well the Eastwood rink was only a block away giving them space to practice.
They went on to win numerous leagues including a sweep of provincial championships for five consecutive years between 1948 and 1953 at the bantam, midget and juvenile levels.
As well, beyond MacPherson, the teams have graduated numerous professional athletes, the 1950-51 Midget 'AA' team for example had six of twelve players who would go on to impressive professional careers in the NHL including Norm Ullman one of the greatest centers to ever play.
However, as with other cities in the country, the post war years were booming and Edmonton was growing particularly quickly following oil strikes in the Leduc area. The growing number of children in the city pushed the Community Leagues to begin putting together teams. These teams, unlike the Athletic Clubs which played more competitive hockey and drew talent from all over, were made up of local neighbourhood youth.
This gave rise to competition for City owned rinks. Complaints and conflicts arose as the rivalry between the leagues grew and in 1962 the City Recreation Department asked representatives from the hockey community to come together to resolve these issues. Following a year of heated debate, in 1963 the Edmonton Metropolitan Hockey Association was formed and governed the sport in the City for a number of years.
Today the face of hockey is far different than the 1930s, our Maple Leaf Gardens is covered over with houses and Toronto's is owned by Loblaws and houses a wholesale grocery store next to the rink. It is no threat though, rinks remain and kids still steal out on Sunday mornings to practice and dream of the big future.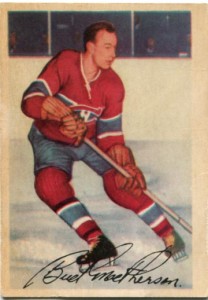 James Albert MacPherson was born in 1927 and grew up at 11831 97th Street, but it is unlikely that anyone remembers him by that name, to the hockey world his was Bud and to his fans, Boomer. At 6-foot-4 and weighing in at over 200 pounds, Boomer played the game his name and his stature would imply. But before he became the defensive force, he was a kid slipping out the back door of his house to the north end of the Maple Leaf Gardens.
As Bud recalled in Alberta on Ice by Gary Zeman, "Early on Sunday mornings [my Brother Bill and I] would get on the rink and skate, pass the puck, and shoot. It became an obsession with me to be able to skate as fast as my father." 
He began playing for the Maple Leaf Athletic Club in 1940 and continued on to 1944 playing an important role as they won both city and provincial championships. In 1948 at 21 years old he helped the Edmonton Flyers win the Allan Cup, a feat that earned him a three-game trial with the Montreal Canadiens. After turning professional, Boomer stayed on with the Habs through to 1957.
During this time he maintained his role as a pillar of the blue line. He modestly argued in an interview in January 1982 that "I never was a great star, I was always trade bait." But it was a time when the game was defensive, his partner and roommate throughout his career was the legendary Doug Harvey who continues to be considered one of the best defensemen of all time and playing under well known coach Dick Irvin, who was often criticized for 'goon' tactics, the blue line was key.
He had moved up from his early years at Edmonton's Maple Leaf Gardens, by the time he was playing at Toronto's Gardens his home rink had likely been built over, but he still called Edmonton home.