11635 96 St.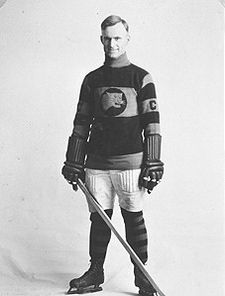 Born in Paisley, Ontario in 1893, Russell 'Barney' Stanley, grew up skating on a pond near his house. At the age of 19 he took a train West where a job working at the Edmonton Pure Butter Company was waiting and there was hope for an opportunity to play hockey.
Standing well over six feet tall with a heavy build and a fine talent for skating, it did not take Barney long to find a spot on one of the local teams. After a few years playing in Edmonton, he signed on with the Vancouver Millionaires in 1913. It was a promising team led by the great Cyclone Taylor. Within two seasons, the Millionaires had reached the finals and were battling the Ottawa Senators for the Stanley Cup.
With a performance in the final game that saw Stanley scoring a record five goals, the Millionaires won and Stanley had accomplished a feat that would earn him a place in the Hockey Hall of Fame. After several more years playing hockey and a brief coaching and management job with the Chicago Blackhawks, Stanley retired from hockey and moved to Edmonton in 1929 where he bought the house at 11632-96st.
The house was built in 1915 by J.H. Brooks, a farmer who only lived there for a year. In 1920 Capt. Wm. K Adams a land surveyor with the provincial government, stayed until the Stanleys arrived. The Stanleys remained for the next twenty years.
During this time, Barney took up a job with the Northern Alberta Dairy Pool, but continued to be involved in hockey as a coach, player, honorary guest and as a father. Barney's son Don, who learned his skills on the numerous Norwood rinks, became a talented player and helped the Edmonton Mercuries win the World Championship in 1950. After this peak, Don directed his talents to business. Along with two other partners, including Louis Grimble who grew up a block to the south and eventually married Don's sister Dorothy Stanley, he founded Stantec Engineering, one of Alberta's most respected planning and engineering firms.